As you get into coil rebuilding and tank filling you may start running into some issues with leaks.  Congratulations!  You are now an experienced vaper.  As an experienced vaper, you have tried tweaking coils with just the right amount of cotton to prevent your RTA Tank from leaking.  But you have had zero luck trying to get the perfect density of cotton into those E-Liquid feeding holes.  Rest assure we have good news.  There are some leak proof RTA Tanks that you can look out for.  In this ranking list, we have brought together some of the best leak proof RTA Tanks available to E-Cig vapers.
Best Leak Proof RTA Vapes
1. Augvape Intake RTA
Augvape provides us with the Intake RTA, a 24 mm reconfigurable tank atomizer with a quarter turn top cover, with a top filling and two large filling ports to hold up to 4.2 ml of RTA maximum E-Liquid. Augvape intake The RTA Atomizer also has a capacity of 4.2ml E-Liquid and 2.5ml holding capacity for standard tank capacity with a bubbly glass tank section.
The building deck at Augvape's Intake is two mast structure decks that must be removed from the base of the RTA. There are two corners, corner roving and PEEK insulation, each measured at 3 mm. The airflow enters the inlet through the double adjustable top air ducts, each measuring 10 mm x 3 mm and can be completely closed. The airflow prevents tank leaking with its top position leak proof RTA outlets.  A delrin drip tip of 8 mm width permits the user to take plenty of steam, but a 510 drip tip adapter is included for greater versatility. Augvape's Intake RTA is a simple RTA that is perfect for those looking for RTA that can be used as a normal or short rebuildable tank atomizer.  Less leaks make vaping more enjoyable! – oos
---
2. Hellvape Dead Rabbit V2 RTA
Dead Rabbit v2 RTA is the tank version of Hellvape's famous dripper.
The favorite dripper of vapers now comes in atomizer with a pyrex tank that fills up. The Dead Rabbit v2 RTA atomizer is equipped with a Pyrex bubble tank with 4.5 ml of e-liquid capacity. A classic tank is also provided in the pack with a 2ml tank in e-liquid.
Leak-proof RTA with top airflow, the Dead Rabbit v2 RTA tank helps prevent leaks and easily adjust the airflow. His air arrivals are accentuated by a large drip tip 810 signed Hellvape.
The Dead Rabbit v2 RTA tank deck is designed to install double coil mounts but can also be mounted in a mono coil. The mounting plate to 4 pin is strongly inspired by that of the Dead Rabbit RDA and does not disorient lovers of this dripper. With a 510 gold-plated pin, the conduction velocity is ensured by noble materials.
Dead Rabbit, one of the best drippers on the market, is now available in rebuildable tanks. Did you dream of it? Hellvape did it!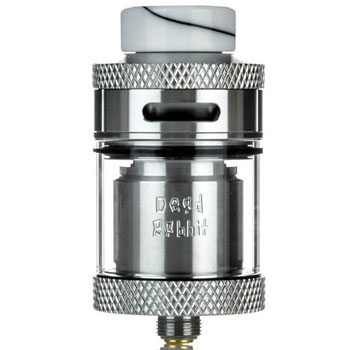 Link 2 : Check Price
---
3. OBS Engine II RTA
The OBS Engine II RTA tank, inherited from the OBS Engine RTA, is an innovative RTA tank of double coils of 5 ml with a patented system of superior lateral filling and flow of adjustable upper air of 360 degrees which makes the 2 RTA engine avoid leakage effectively. In addition to the leak proof technology, the engine 2 also comes with the precise design of the air circulation system to concentrate the steam and improve the flavor. Together with the two poles, they build a deck for the construction of double coils, the OBS Engine 2 RTA is definitely a wonderful tank! – oos
---
4. GeekVape Zeus X RTA
GeekVape Zeus has ranked among one of the most popular and most popular RTAs when it comes to leaks and preventing them. It has one spiral, upper air intakes, great flavor, and rich vapor generation, undoubtedly deserving this status. And that's not the case with the new version of Zeus X RTA.  Coming from a long line of the best leak proof RTAs.  While the upper leads remain, the base is now ready to flash two spirals. Minor changes also passed through the chamber that brought air into the base to spirals. The two perforated sections allow Zeus X to produce not only a great taste but also dense vapor clouds, all with a construction that is resistant to e-liquid protection.
The reworked base now offers a total of four contacts to accommodate two glow spirals. However, with a large enough internal diameter, it is also possible to use the spiral one. The contacts themselves are newly elevated and there is space for convenient trimming of spiral ends. Installation is very simple and fast. This also applies to inserting cotton wool. In addition to pre-cast nylon spirals, you can also find a ready-made wool-like wool for easy spiral stretching.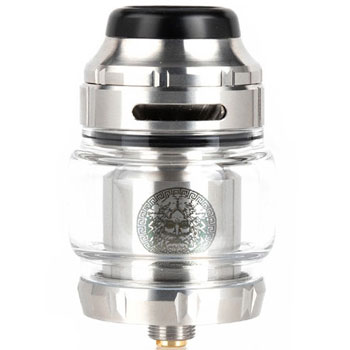 Link 2 : Check Price
---
5. VooPoo RimFire 26mm RTA
VooPoo presents the Rimfire 26mm RTA. A single/double coil atomizer with 5 ml capacity and fully adjustable, leak proof RTA tank upper airflow.
The VooPoo RimFire ​​26 mm RTA is a great addition to the rebuildable tank segment, with a flat construction platform without double coil poles, a superior airflow system on top, and an impressive 5 ml juice capacity with dynamic control of juice flow. The RimFire ​​RTA measures 26 mm in the diameter of the base, with the capacity for a large post-less construction platform to support complex coil configurations. The coil cables are secured laterally by flat head screws and can place larger coils without any modification.
The airflow in the upper part is located on top of the VOOPOO RimFire which helps to prevent the tank from leaking. Its integrated a precision airflow adjusting ring for double-slot ventilation holes for auxiliary cooling properties. These airflow channels are redirected through the ventilation ducts to the coils of the atomizer to create dense clouds of flavor and prevent annoying leaks that can affect the use of the tank. – oos
---
6. Vandy Vape Mesh RTA
The Vandy Vape Mesh RTA Rebuildable Atomizer allows the installation of good-sized double coil assemblies with a new leak and overhead aeration system. The Mesh RTA is a calibrated atomizer for steam production with a striking design and look. We love his wide drip-tip matching the colors of the RTA. Bonus size, the ability to install the glass bubble tank to go from a capacity of 2 ml to 4 ml!
Vandy Vape offers us a new RTA atomizer of good size and original look for a powerful vape full of steam. All stainless steel, the Mesh RTA atomizer has the distinction of offering a tank "bubble" glass look original. Its V-shaped mounting plate accommodates large assemblies in double coil and its aeration system called "honeycomb" avoids liquid leakage.  A top choice for those looking for one of the best leak proof RTA tanks out. – oos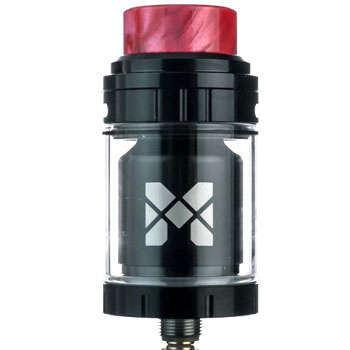 ---
INFO: Update00