Vape Ranker is back at it again!  Discovering the Best Vape Mods on the market.  If you are looking for something a little more beefy and powerful than a pod stick, these will be a nice step up.
Today, we give you a list of the top-rated box mods.  After extensive research and fiddling around with 100's of vape devices when it comes to power, portability, and style, these are the mods we believe to be the best bang for the buck.
Best Vape Mods
1. Lost Vape Thelema DNA250C Box Mod
Lost Vape has returned with the Thelema DNA250C, a new high-wattage box mod. The use of this battery necessitates the use of two high-drain 18650 batteries. It's also operated by the Evolv DNA250C Board, which can produce a peak max wattage output of 200w, just like their Centaurus Mod.
Furthermore, the DNA board has a plethora of interface styles. Temperature control, boost mode, and their common replay mode are all available. The Lost Vape Thelema DNA250C Box Mod has an ergonomic style that makes it very easy to use.
Another fantastic aspect is that the firmware can be upgraded using the Escribe app and your PC. Finally, the mod has a number of protection features.
Its architecture and appearance are strikingly similar to their previous Therion, and fans of that model may want to try out the Thelema DNA250C. Despite the fact that it bears having a similar name as their Thelema Pod Mod, it is an entirely different beast!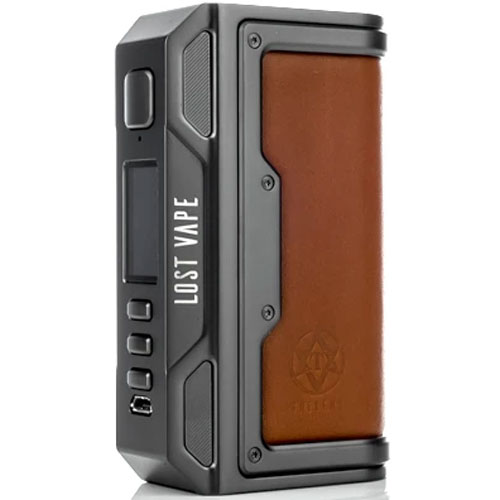 Link 2 : Check Price
---
2. GeekVape Aegis X Vape Mod
GeekVape is once again offering a high-quality material. The Aegis X is an electronic box that can deliver up to 200 watts. This is ideal for running all atomizers or clearomizers. Definitely, the best vape mod that is IP67 waterproof!
In addition, this manufacturer has equipped his box with a new very responsive chipset that takes only 0.02 seconds to react, between the pressure on the fire and the start of the heater.
GeekVape has thought of all users and leaves the possibility of using dual 18650 batteries. A choice that we welcome and that is very practical in everyday life. And all this is possible despite the small size of the box. With a large 2.4-inch color display screen, the Aegis X is packed with tons of features and protection for whatever life throws at it.
This small size did not prevent GeekVape from integrating a large colored screen that acts as a switch. So you can view all the information and manage wattage, temperature control, or bypass mode quickly.
Link 2 : Check Price
---
3. VooPoo Drag 3 Box Mod
The VOOPOO Drag 3 Mod has a beautiful, classic look, a super-powerful performance, and can be used with TPP Atomizers, which have an advanced TPP atomization system, which can be used with a variety of 510 atomizers to produce a massive cloud.
Constructed with a similar metal styling to the original Drag, Drag3 not only maintains the Drag series' advantages but also refreshes the concept of vape power and great flavor. The Drag 3 Mod is operated by dual 18650 batteries that are not included and has a continuous output range of 5 to 177 watts. Internally, the battery is easily charged at up to 5V/2A using a Type-C cord. The GENE. FAN 2.0 chipset, which is built-in and upgraded, has high performance and can maintain exceptionally fast firing speeds of just 0.001s, reliable power delivery, and a variety of intelligent output modes.
Drag 3 Mod includes VOOPOO's original high-explosive mode (SUPER mode) for the ultimate cloud experience, as well as SMART mode for beginners, power-free RBA mode for skilled players, and specific temperature control mode. Have you attempted Gene Chip before? It's time to experience the upgraded GENE. FAN 2.0,  Drag 3 Mod delivers flawless results thanks to its superpower, instant blast, four draw modes, Innovative super mode, RBA/SMART/TC modes, for larger clouds.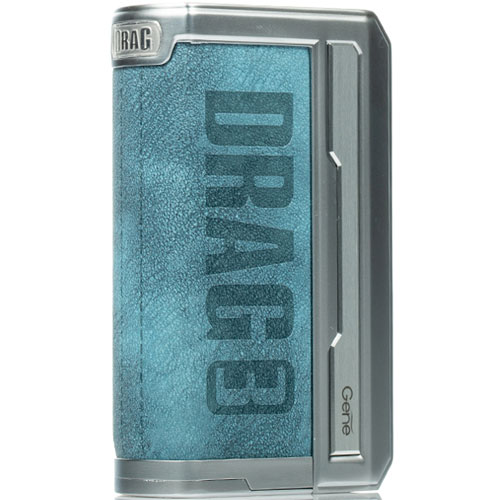 Link 2 : Check Price
---
4. SMOK Morph 2 Vape Mod
The SMOK Morph 2 Box Mod features a zinc alloy build for increased longevity, as well as plush leather for a pleasant feel. The optically divided display screen is striking, and the placement of start and pick buttons makes mod operation easier. From below, the battery unit is loaded into the Morph 2 Mod. The battery door has also seen a minor upgrade, with the implementation of a small sliding hold. This does a great job of keeping the battery in place.
2 18650 batteries power the Morph 2 Mod. It has a maximum output power of 230 watts in power mode. A controlled charging current of up to 2A can be used to charge the battery cells in the Morph 2 Mod. Morph 2 Mod has a quick loading speed of 0.001 seconds thanks to the efficient IQ-S chipset, which ensures a steady power output even while the battery cell is limited. The VW and TC modes are available in the vapor mode. A variety of safety circuits are included in the Morph 2 vape Mod. The 0.96-inch monitor will show you the chosen working mode, battery capacity, ohms, wattage, puff number, and vaping time, among other things.
Link 2 : Check Price
---
5. Dovpo Odin 200 Vape Mod
Considered as this year's most affordable luxury Mod!
Even though Dovpo is known to be a manufacturer of quality atomizers, it can also boast several modes. One of them is Odin 200. And it's not just a mod, but a sturdy piece that does not mind falls, dust or water. Yes, Dovpo Odin 200 can take you to the extreme conditions with which you can handle this mode. And if you do not know what Odin tank you are using, Dovpo has also added a low-impact Shield tank to direct it to your lungs.
The durable rubber, aluminum, and zinc steels, and leather made robust mod, in addition to the premium design, also offers high power up to 200W, and you can use the dual 21700 strong batteries. If you prefer the classic 21700, there is no problem, even with the Dovpo Odin 200 special adapter. A very simple and intuitive operation lets you easily set and switch between modes. There is a classic mode of operation, temperature modes for nickel, titanium, and stainless steel. You can also set the temperature coefficient of resistance in TCR mode. A special feature is the ability to adjust the heating curve in the first five seconds using VPC mode.
Dovpo 's durability guarantees top-quality materials and high-quality construction.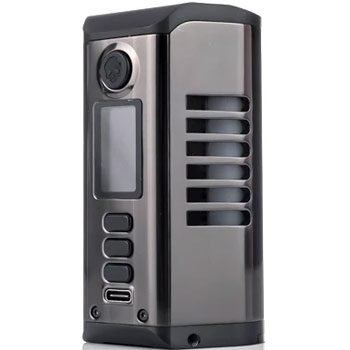 Link  2 : Check Price
---
6. VooPoo Drag 2 Refresh Box Mod
VOOPOO Drag ranked among the most sought-after devices right after the release. And why not?  It's no wonder why this is one of the best vape mods. Quality design, beautiful design, high-quality chip, all for a great price. Drag has become a concept, the modem that everyone has to have. It is no wonder that VOOPOO comes with its third-generation version, the Drag 2 Refresh, which moves this series even further.
Drag 2 Refresh boasts slightly rounded shapes even better in hand, a quarter of a lower weight, and a beautiful resin panel that just does not jump. But the main attention is drawn to the GENE chip, this time in the FIT design.
You can look forward to an incredibly fast glow and precise glow. There is also a wide range of features in many modes. You can set the power up to 177W, temperature modes are compatible with nickel, titanium, and stainless spirals, and for other materials, and the TCR is used. Direct Output Voltage with Bypass Mode or Custom Heat Curve is also available. The GENE chip now also has a FIT mode to protect your low-back-tank against overheating.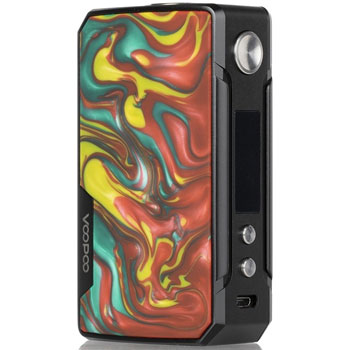 Link 2 : Check Price
---
7. Vaporesso Luxe II Box Mod
Purified, the Luxe II box works with two 18650 batteries to have considerable autonomy. Only equipped with a switch that can fire in 0.001 seconds, this electronic mod embeds an imposing colorful screen that is touch. Thanks to this very intuitive system, you can effortlessly navigate the menus and select the variable wattage or temperature control mode and manage the power. With 220 watts of maximum power, you can enjoy the SKrr clearomizer.  A great combination that makes it the best box mod with a touch screen.
With a unique design, this clearomizer provides a dense vapor and a very good restoration of flavors. Equipped with top-fill, to make your life easier, this 8ml capacity tank comes with a 0.15-ohm QF Strip resistor that will work between 60 and 90 watts and a 0.2ohm QF Meshed resistor that will accept between 55 and 85 watts. The latter is supplied with air thanks to a unique system. The air will enter through the adjustable airflow from the bottom and will be distributed via a metal piece, located in the clearomizer, which will distribute the airflow through four holes. This revolutionary airflow increases the flavors and the steam produced.
Real machine to do everything, the Vaporesso Luxury kit will upset the world of the vape.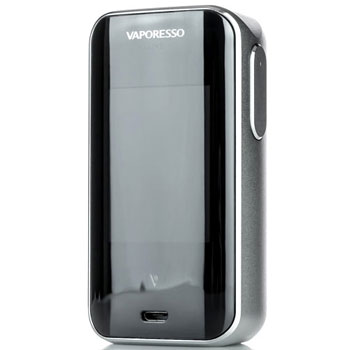 Link 2 : Check Price
---
8. Smok Scar 18
It was one of the most popular modes of their time. Innovative Scar 18 from Smok offered high performance and operation on three 18650 batteries, all in acceptable dimensions that fit perfectly into the hand. In terms of battery life, the Scar 18 has the best box mod batter life.  The designer is now returning with a modified version of this mod, and his third generation has been offering many new features. Whether it's a lower battery hatch, a bigger screen, or a smaller size, Scar 18 is here and waiting for you.
Changes to Scar 18 are not just cosmetic. The large 1.3 "display is beautifully readable and makes navigation easier with the new user interface. It offers, in addition to the classical power mode and 230W, also thermal modes for nickel, titanium, and stainless steel. A temperature coefficient of resistance can also be set using the TCR mode. For Direct Output Voltage, there is a Bypass. There's also a preheat function that lets you set higher power in just a few seconds. On the three-battery mode, the Scar 18 has an incredibly compact look.
Link 2 : Check Price
---
9. SX Mini X Class
The SX mini X Class is a luxury mod that offers users a wide range of custom settings, high performance, perfect ergonomics, and premium temperature modes. It is a premium product that is designed for the most demanding vapers. The SXmini also has its own design. On the back is the backlit SXmini logo and the whole body is covered with carbon for the refinement of the already polished design. The entire body is then dominated by a huge color display at the front and a simple fire button which you can comfortably adjust up to 200W.
The core of the mod is the first-class YiHi SX550J chip. It is designed and designed exclusively for the most accurate temperature modes. You can conveniently enjoy accurate temperature measurements on the spiral. These modes will ensure that your wool never burns even if e-liquid occurs. Thanks to this chip, you can also easily set the temperature curves for heating, from which you can store up to five settings. Use your spirals made of nickel, titanium, or stainless steel. This mode is absolutely accurate and you can recognize the true meaning of temperature modes in electronic grips.
In the body of the mod, you will find a slot for two 18650 batteries. This ensures uninterrupted operation and high performance, especially for fans of direct lung coating. The Mod will also help you quickly charge your batteries. In the front, you will find USB Type C, which is much faster than the conventional USB connector and will also speed up your charging. At the top, you should not miss an excellent 510 connector with a spring centerpiece. The connector has a diameter of 31 mm and is therefore manufactured for all today's atomizers. You do not have to worry about unsightly overlaps or any average discrepancies. Any atomizer always sits perfectly on this unique mod.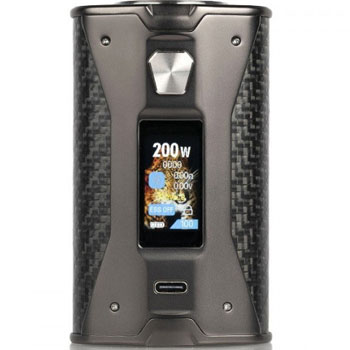 Link 2 : Check Price
---
10. Eleaf iStick Pico
The Eleaf iStick Pico S is one of the best vape mods around if you're looking for a smaller sized vape device.  It has more thread space around it and is compatible with atomizers up to a diameter of 26.5mm. Typically rounded shapes are handheld comfortably and so easy to use.
This helps you with a simple and very easy-to-use display with an intuitive user interface that makes it easy to set the available modes and all of their parameters. Ready for you power is adjustable up to 100W, temperature modes supporting nickel, titanium, and stainless glow spirals. Setting the temperature coefficient of resistance for the use of other materials within the temperature regime. Last but not least, bypass mode, with which you will enjoy the direct output voltage of the battery similarly to the mechanical modes.
The complete set of iStick Pico S forms in conjunction with the low-cost water tank VATE. Wide adjustable air intakes, large volume, and powerful glow heads mean huge steam clouds and a wonderful flavor. The most important part of this is the innovative HW-M and HW-N glow heads, which use special mesh from kanthal instead of classic spirals. It offers a much larger area for evaporation, so you enjoy more steam and richer flavor. Pico S is designed for direct lung coating. 100W TC.
Link  2 : Check Price
---
Advanced chipsets in the best box mods and vape mods can precisely read and measure atomizer resistance, as well as adjust power and or temperature.
Some tube mods and vape pens are smaller than vape mods. They have a number of extra functions, including variable voltage, extended wattage, and temperature control.
Vapers who begin with e-cigarettes and vape pens will ultimately want something strong and customizable. Although some vape pens allow for some modification, none of them can generate a lot of juice. This provides vapers with a hankering for more. Vape mods are the way to go if you want the most strength, versatility, and vapor output. On this tab, we'll go through the best vape mods currently available.
Box Mod Features
The number of possible features and configurations will grow as box mod chipsets expand and advanced models become more commonly available. Memory slots, wireless passcodes, and functional themes are only a couple of the more modern features we're starting to see. Memory settings allow users to save sets of settings for specific categories of e liquids, without the need to constantly change and recall specific settings. Advanced chipsets often feature theme settings, which enable users to quickly adjust the appearance of their computers, whether by color, graphics, or a mixture of the two.
Battery Type
Integrated batteries are becoming more popular in low-cost box mod vapes. Integrated batteries are typically one or two 18650 batteries that are non-removable. If there isn't much of a performance hit at first, most users experience a reduction in power and durability after around a year. Removable batteries, on the other hand, enable consumers to simply switch out batteries rather than needing to replace the whole battery. If you're going to be testing different batteries or playing with rebuildable atomizers, make sure the power output and amps match rated for your battery.
Variable Wattage
is self-explanatory, and it helps the user to conveniently change the wattage within the given range. A variable wattage mode is available on most, if not all, box mods, like squonks. In a brief, higher wattage means higher power and therefore higher vapor output. It's important to note, though, that if the atomizer's resistance and or voltage aren't fine-tuned properly, too much wattage will result in a burnt taste. For the most part, Variable Voltage (VV) is self-explanatory, allowing consumers to conveniently change the voltage of their machines at any moment. The vast majority of VW mods are VV as well. To put it another way, if a box mod is called VW, it's extremely likely that it also has VV.
Temperature Control
is a common feature that aims to make changing wattage and voltage settings easier while also providing high efficiency and adjustability. In TC mode, users essentially adjust the temperature that their coil approaches when it fires, either in Fahrenheit or Celsius. In other words, TC mode is an adaptive setting that controls the coil's temperature.
Puff Counters
Puff settings are becoming more common in box mods with advanced chipsets. Users may check their overall puff count and also set a cap to better control their use of puff settings.
Chipsets
The processor of your box mod vape is a computer chip, and some are far more sophisticated than others. Hence more features, functions, and configurations a chip has, the more sophisticated it is. Pay attention to chipsets if you want your vape to be heavily digitized and have a large number of conveniently navigable settings. Some chips can also be upgraded via Bluetooth or by connecting to your device with a USB cable. Updating the chipset is also regarded as updating firmware, and it is used to patch device defects or glitches. Though not a top concern for the bulk of vapor consumers, some have developed a fondness for specific processors such as DNA.
Touchscreens
Vapers are flocking to box mods because of their high specification capability and low cost of ownership. They have, however, been faced with machines that are somewhat confusing or non-intuitive, this is referred to as the User Interface or UI for short. Consumers expect intuitive interfaces in consumer vapes in today's digital world. Intuitiveness is a top priority for certain vapor consumers, and new touch-screens are becoming easier to understand and use.
Safety Features
Vaping privacy is, unsurprisingly, a top concern for both consumers and makers of vape devices. Although the large percentage of box mod vapes include adequate safety features, some are more durable than others. Short circuit security, overheating protection, and 10-second cut-off indicators are also common safety features to watch for. Most consumers choose manual control or lock switches in addition to these automated or built-in protection measures, meaning that the system does not fire accidentally.
Squonks vs Box Mods
Squonkers
This is a modern form of a vaping kit that is quickly gaining popularity. Squonk box mods have flexible settings, run e-liquid, and have a boxy appearance, similar to regular box mods. Squonk box mods, on the other hand, are built exclusively for RDAs and their efficiency and effectiveness. Squonking gets its name from the fact that users manually push e-liquid from the device's bottom to the atomizer by squeezing a built-in plastic container. Squonks, on the other hand, have a large e-liquid capacity, rendering the need to replenish less annoying.
Standard Box
Vaping mods with customizable settings that are attached to an e-liquid tank.  These are regulated, meaning you can set the wattage but if you want to store e-liquid you must use a tank.  Though pre-built coil-heads are the most common type of e-liquid tank that works with a regular box mod, these types of vapes can also accommodate rebuildable atomizer configurations. Pre-built coil-head tanks are available in a variety of e-liquid storage capacities.  On average they range from 2 mL to 9 mL, and most commonly 4-5mL. Finally, the number of parameters that can be adjusted can range from one to a large number, depending on the chipset of the system.
INFO: 1xnipsVC : Update009072019: vaproesso gen s ultra, swag 2