The Best Pod Mods will allow you to vape even longer while still remaining small and compact!
Pod Mod Evolution
Pod systems are among the most popular and newest sensations on the E-Cig scene.  They are one of the easiest vape devices to set up and use.   Pod systems have evolved a great deal.  What was once a simple-to-use mod has become slightly more complex.  These days there are 2 tiers or versions of pod systems.  But they still all share one common feature, that is the use of a pod. Below we will explain the differences between these 2 tiers of pod systems
The best pod mods are equipped with great cloud production and healthy battery life for all-day use.
Tier 1 Pod – Pod Stick
These are the original or traditional pod systems.  The simplest of all pods and the most compact.  In order to distinguish between the two different types of pods, a new name has evolved.  Enter the "Pod Stick" Mainly comprised of only two or three pieces making them really easy to use.  These are designed as great compact vapes for taking on the go.  They are not the pods that we will be listing in this article but if you are interested in stick pods please check out our other pod article on Juul alternatives.  Just to get a quick idea of what a stick pod is here are the parts.
Components:
Pod Battery – A slim battery that is the closest in size comparison to a combustible cigarette.
Pod Cartridge – Holds e-liquid and often times the atomizer as well.
Atomizer – In Most Cases Built into Pod Cartridge, but may come as a separate replaceable part.
Tier 2 Pod – Pod Mod
The pod mod is something that has evolved from the stick pod.  Over time vapers have grown more hungry for improvements, like battery life and functionality.  A pod mod has many new features as an upgrade to the conventional pod system.  One of these improvements was the increased battery size or removable 18650 battery.  This adds a huge amount of battery life to the vape.  Double or maybe even quadruple the amount of time you can go in vaping sessions without having to recharge your mod.
Another improvement was the implementation variable wattage.  Yes, you can now adjust your wattage to the desired power.  This has introduced a way for vapers to fine-tune our vapor production.  Being able to fine-tune wattage means you can dial in a warm or cool vape,  and produce large or small clouds.
Components:
Pod Mod Battery – 2000mAh or more.  Many use a removable 18650 battery which means batteries are now swappable.
Pod Mod Cartridge – Generally larger than 2mLs which is the industry standard for stick pods.
Atomizer – 95% of all pod mods use a separate atomizer coil so that there is no need to replace the whole pod container. 
Pod mods are a happy medium between its tier-one counterpart and a box mod.  If you want something larger that is going to offer the most battery life then you might want to skip the pods and go straight to a box mod.
Best Pod Mods
1. SMOK Nord 4 Pod System
Brother of the Novo Pod Mod.  However, the SMOK Nord 4 offers so much more. Changes are visible at first sight thanks to the button and a small window for checking the level of your e-liquid. The pleasant shape that makes it comfortable to hold, however, remains. The battery now offers up to 2000mAh, which is more than doubled for Novo, making this pod system better than ever!  Also, the volume of the pod has increased to better 4.5ml. Everyday use is so much more practical and enjoyable. With Nord 4 you also have more than one vaping method.
It is now possible to exchange coil heads without buying a whole new pod. While Novo has a coil integrated into the pod, the coils for the SMOK Nord 4 are interchangeable, so you do not have to throw the whole pod. In case of replacement, simply pull the old coil cartridge out. In addition, the pack contains two different glow heads. No matter how you want Nord for classical coating in the form of a pus-lung (like cigarettes) or for direct vapor in the lungs, you do not have to buy anything, everything is part of the kit. SMOK Nord 4 is especially appreciated by moderately strong smokers and beginners for whom the main stamina, simplicity, and elegance are.  Our pick For Best Pod System goes to the Nord 4 for an all-around great vape!
Pod Cartridge: Refillable Pods
Pod Tank Capacity: 4.5 mL
Link 2 : Check Price
---
2. Lost Vape URSA Quest Pod Device
The Lost Vape URSA Quest Pod System is a feature-rich vape utilizing an 18650 battery. Manufactured with the same great quality and solid construction that you would expect from Lost Vape. This new series of pod mods preserves the exact functionality of Lost Vape and the same great features as the Orion DNA GO. Built with a removal battery, an increased maximum output from the old models 17W to 100 watts. The display screen has also received some new updates making this the best Lost Vape Pod to date.
Lost Vape URSA Q or Quest Pod System Kit comes with 0.12 and 0.2-ohm coils, which are used in the 2 different pod tanks. The URSA Quest Edition contains all the intricate details of the Orion DNA GO, such as a high-quality zinc alloy case and stunning carbon fiber or resin details. To create a high-end all-in-one pod system. The main difference is in the chipset, which implements a refined output specification with multiple output settings without customization functionality.
Features: Refillable Pods | 6-7mL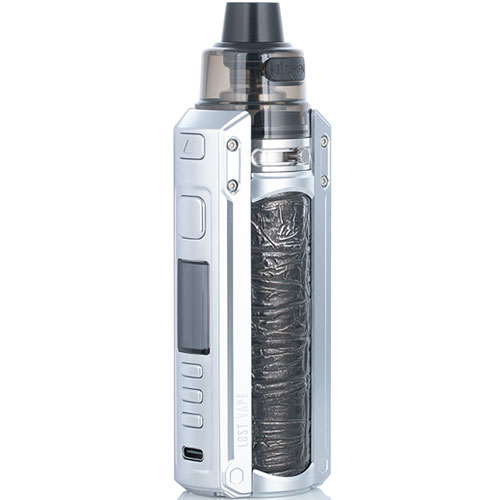 ---
3. Geekvape Aegis hero
This is one of the best MTL vapes you can get from any pod mod. Geekvape is proud to present the Geekvape Aegis HeroMod Kit with a sub-ohm pod designed for intermediate and advanced vapors. Ultra-compact and comfortable to hold and features a 1200mAh built-in battery in the Geekvape Aegis Hero Pod Kit should fire out a maximum 45W output. The Geekvape Aegis Hero device is both shock and waterproof, making it comfortable and long-lasting.
The Aegis Hero kit also includes a 0.42-inch OLED screen that displays important vaping data and output modes. The operating buttons control the adjustable variable wattage, bypass mode, and other features. Furthermore, the Geekvape Aegis comes with a 4ml pod cartridge that works better with any of the G Coil Boost Series. The Geekvape Aegis Hero mod provides an outstanding vaping experience with its realistic top-fill configuration and stylish adjustable airflow that dials down tight for great mouth to long.
Features: Refillable Pods | 4mL | MTL & DTL
Link 2 : Check Price
---
4. Aspire Nautilus Prime X
The Nautilus Series is undoubtedly one of the most popular and top quality in the area of atomizer designed to MTL. Aspire now incorporates the Nautilus into the all-in-one design and comes with a small, compact Nautilus AIO set that will not only be appreciated by beginners but also by those who are already using Nautilus looking for something small that can easily be hidden in a pocket or bag.
Simple operation and high-quality coil heads make the Aspire Nautilus Prime X the best of its kind. As with similar models, the Nautilus Prime X is equipped with an e-liquid filling cartridge. A base with a screwed head is inserted into it. The base boasts an accurate air supply control, so you can fine-tune the pod mod to MTL or DTL. The high resistance of 0.7 Ohm mesh coil provides a perfectly tightened vape experience to satisfy even the most demanding MTL vapers. In addition, the pack contains two replaceable cartridge coils and two pod tanks for backward compatibility with the nautilus BVC series coils. While one is more suited for classic e-liquids, the other is best in combination with nicotine salt e-liquids.
Features: Refillable Pods | 4-4.5 mL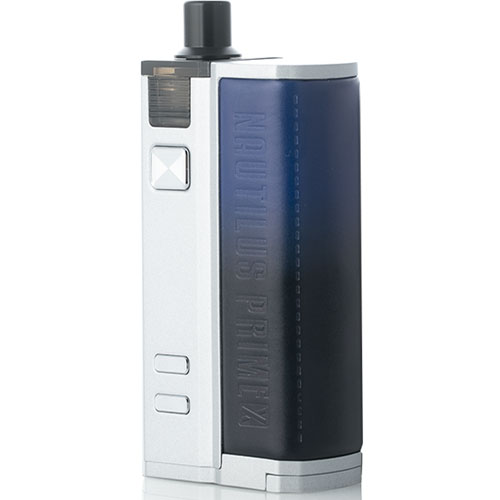 SAS: https://www.ejuices.com/products/aspire-nautilus-prime-x-starter-kit
---
5. VooPoo Argus X
Probably the most popular POD system of the year. The VooPoo Argus X is blazing a trail on the most wanted list. This Pod mod is not only an e-cigarette but also a fashionable accessory. It can be easily transported in your pocket because it is really tiny or hung with an enclosed lanyard around the neck. This also stops the annoying search for e-cigarette. It is always at the ready and can be dropped after vaping to hang loosely around your neck.
If you like something more modern, you can also order a fashionable necklace to hang your Argus X around your neck.  The filling volume of the pods is 4.5ml ideally you should be filled with 70% VG / 30% PG.
Featuring a removable 18650 battery that can be swapped out very quickly at any time. Great for vaping all throughout the day. The Argus X has a wonderfully large display screen that provides instant feedback on battery condition and easy-to-read settings.  This Stylish pod mod has a cover to protect the USB port from dirt.  The cylindrical shape makes this pod system one of the most comfortable to hold
Features: Refillable Pods | 4.5 mL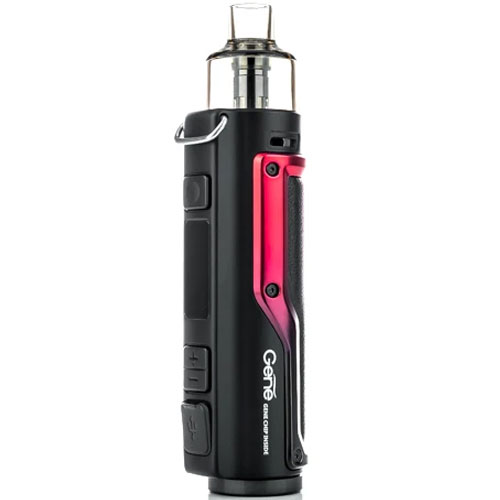 SAS: https://vapordna.com/products/voopoo-argus-x-80w-pod-mod-kit
---
6. Lost Vape Thelema
The Lost Vape Thelema does away with the classic pod system. The device's material is made of Zinc Alloy, with a leather construction on top. Thelema comes in three different appearance series and nine different colors. A 3000mAh battery is integrated into the Thelema vape kit, which can be charged up in 60 minutes using a USB Type-C port. Thelema also features a branded Quest chipset with an 80W peak power, as well as a 0.96-inch colored TFT display screen on the control panel that displays key data and allows six theme color changes.
The maximum capacity of the Lost Vape Thelema Pod is 4ml. The 510 Drip Tip on the front of the Pod can be swapped, giving you 2 distinct drip tip choices to better suit your DL/MTL needs. Thelema Pod is also interchangeable with all Ultra Boost coils, particularly RBA, and also uses an airflow circle on the coil base as well as the dual airflow channels built into the pod to create the freshest flavor.
Features: Refillable Pods | 4.5 mL | 3000mAh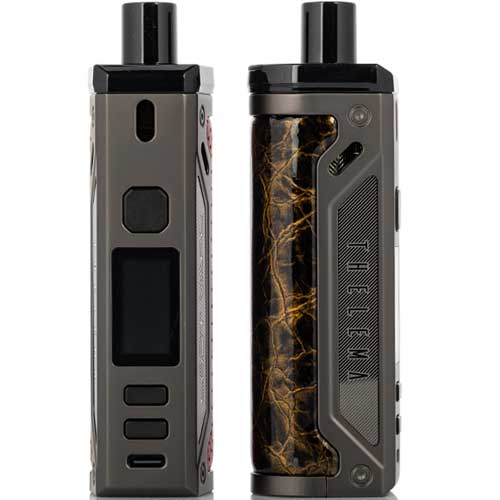 Link 2 : Check Price
---
7. Vaporesso Target PM80
Featuring AXON Chip inside the Vaporesso Target PM 80, which produces killer flavored vapor at a blasting speed of 0.001s. Find your favorite configuration with features including PULSE mode, intelligent wattage level detection, and on-screen suggestions for the most accurate power output for your coil on the easily readable display screen.
You can fill and refill the two included 4ml Target PM80 Pods from the base, and you can exchange out your GTX coils without having to remove your pods of e-liquid – no waste, no rubbish. Comes with two mesh atomizer coils which are mesh and included with the Target PM80. The 45W to 60W GTX Mesh Coil is rated at 0.2 ohms, and the 32W to 45W GTX Mesh Coil is rated at 0.3 ohms.
The Target PM 80 Pod Kit by Vaporesso is a fantastic option for beginners to the most experienced vapers alike. If you're looking for a small pod system that can keep up with everyday use look no further.
Features: Refillable Pods | 4.5 mL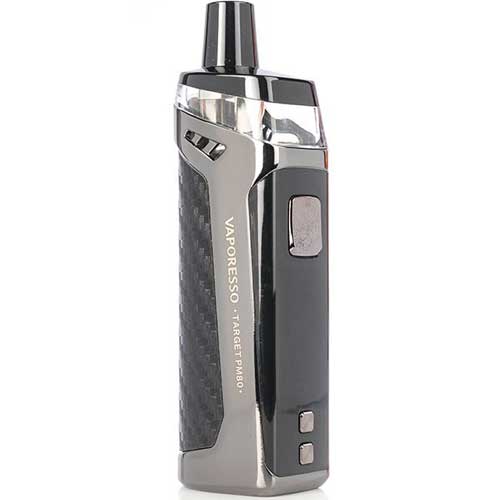 ---
8. FreeMax Autopod
The Autopod50 is a pod mod that features a 2000 mAh built-in battery and a 50-watt rating. Most significantly, it uses the newest generation of Freemax coils, the Coiltech4.0 mesh coils, with the dual mesh coils included in the package. Freemax is known for producing some of the better mesh coils in the industry, if not the best.
The Autopod has a boxy design and is smaller than the majority of vapes in this bracket. The Innokin's form factor is similar. With a full pod attached, the Autopod is very heavy, but that's to be expected from a controlled pod mod with a 2000 mAh battery. It feels reasonably well-built due to its weight and mostly metallic construction, but the front panel is plastic, giving it a cheap feel.
The pods contain 4 mL of juice, are darkly tinted, and only a substantial minority of their surface is visible. The amount of juice left inside the pod is easily visible. This has consequences, as you'll see in the performance section.
In the box, the Autopod equipped with 2 coil configurations, all of which are dual-mesh coils. Tea fiber cotton is used in both coils, which are made of stainless steel (SS904L). With only 40 watts, the taste on these coils is incredible.
Features: 2000mah | 4.5 mL | 50w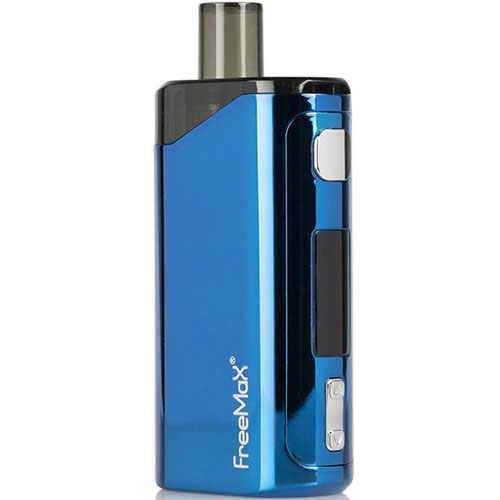 ---
9. Vaporesso Swag PX80
The Swag is one of the great pod mod technologies that gets upgraded on a regular basis, with new versions coming out as new technology is launched or as user demand of features achieves a certain level. So it's only logical that the newest edition includes not only all of the buttons and buzzers found in other kits but also a brand-new Vaporesso invention.
To the untrained eye, the Swag PX80 appears to be a fairly straightforward Mod + Tank combo, powered by a single 18650 battery, with no visible screen, USB Type-C charging, and a 4ml Pod tank on top to provide that awesome flavor. But there's a lot more to it. Vaporesso has pushed the envelope with some fairly inventive approaches to some basic complaints, even though some are rather aesthetic than necessary.
The Swag PX80 is a very well engineered mod + Pod tank that is powered by a single 18650 battery and features a 4ml Pod Tank with adjustable airflow, leak-proof coil changing lock feature, hidden color display screen, USB-Type-C charging, adjustable wattage, and other operating modes, and many other slight design tweaks that make this a very robust little piece of kit.
Features: Removable 18650 Battery | 4 mL | 80w Max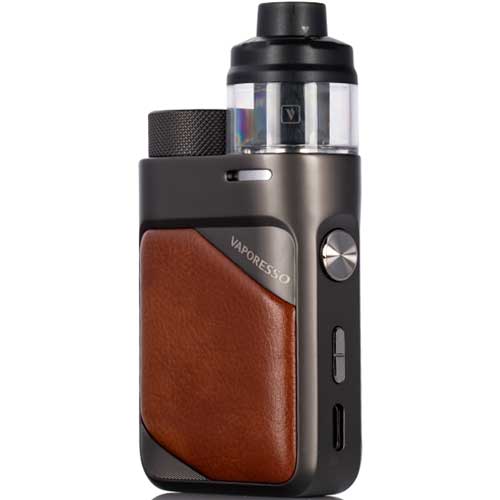 Link 2 : Check Price
---
VR:metax:nodesc:ppc0:xtranx:xtranreviewx:INFO:xtwitx:xfacex:xscoopx:xvkx: nonkeywords:podvapes:stickpods:juulalternatives : keywords:podmod